You might associate Appl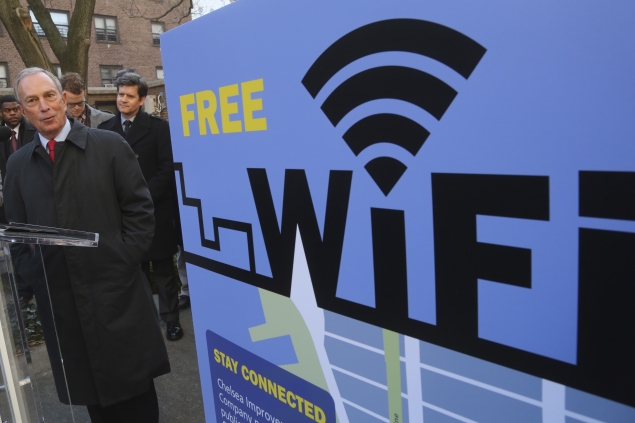 e with expensive products and upmarket accessories. But, believe it or not, Apple co-founder Steve Jobs was allegedly infatuated with the idea of giving free WiFi to everyone in America.
According to Walt Mossberg, a tech journalist known to have been close with Jobs, the Apple boss's idea wasn't for his company to foot the bill for a free, country-wide WiFi utopia. Instead, back in the first days of the original iPhone (2007), Jobs envisioned a scenario closer to what we have now: WiFi routers in commercial and residential communities openly sharing Internet access to passersby.
In a recent piece for the technology website Re/code, Mossberg gives his account of a conversation he had with Jobs, explaining that the late Apple CEO was frustrated with the limited capabilities of cellular networks in 2007. Jobs knew that the iPhone thrived on WiFi, and he wanted all iPhone owners to have access to speedier wireless data all the time.
According to Mossberg:
"Jobs said he understood the need for security, but he was determined to figure out a way to make free, safe, Wi-Fi sharing from homes and small local businesses not only possible, but common. He even told me that he planned to get other companies involved, in a sort of consortium, to make this happen.
"His idea was to get as many wireless router makers as possible to build in a 'guest network' option — essentially a second Wi-Fi network, securely walled off from the rest of the home network, and with its own name. Then, he hoped that the industry would encourage people to share their bandwidth with strangers via these guest networks. That way, a smartphone user could walk around, moving from one Wi-Fi hotspot to another, without logging in — much like people using cellular data move from one cell tower to another."
Though more routers today do allow for a separate "guest" channel, Mossberg admits that he has "no idea whether this stemmed from Steve Jobs' idea."
Many Internet providers go a step further in configuring rented residential and commercial WiFi routers to automatically provide "guest" access in an attempt to facilitate community broadband networks. The communal "cable WiFi" scheme, outlined by our columnist Rob Pegoraro, can be thwarted if the customer chooses to disable the sharing, a process alsooutlined by our columnist Rob Pegoraro.
Since the main way to connect freely with "cable WiFi" or the like is by logging in with cable subscription credentials, it means the service generally isn't free or available in most neighborhoods. That's why Mossberg says that, nope, "No such big public consortium for home Wi-Fi sharing [as described by Jobs] ever emerged."
That might be changing. My colleague Alyssa Bereznak detailed a new system being piloted in Spain, in which neighbors pool together their WiFi to form a stronger signal for whoever is online at the time.
Granted, this system hasn't caught on quite yet. But, hey, who knows? Now that the cat's out of the bag on Jobs' big "free WiFi" idea, maybe someone will lift it outright. It wouldn't be the first time a company has stolen from him, right?