There has been a lot of negativity about Microsoft (MSFT) recently, including some pundits propagating the notion that it is "dying."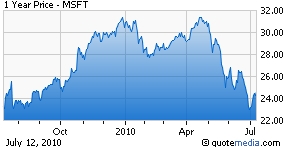 This is pretty absurd considering how much money the company makes. Here are Microsoft's net income numbers for the last three years:$14.5B (2009), $17.6B (2008), $14B (2007). They are hauling in at least $15B a year. In the worst two business years in recent history, they made more than $30B in profit.
While we're at it, let's take a look at their balance sheet at the end of each of the last three years. Here are their total current assets: $49B (2009) $43B (2008), and $40B (2007). So, Microsoft has built the value of its balance sheet assets — the bulk of which are in cash and long-term securites — by several billion dollars over the last few years.
Does that sound like a terrible business to you? One in which you wouldn't want to own? Does it sound like a business that's decaying? Not to me.
It's true that Microsoft has some issues, especially in markets such as mobile, which are not part of their core profitability. I will address these issues tomorrow. But to describe their business as "imploding" or decaying is simply ridiculous.
I last looked at Microsoft when it was trading with a P/E of 13. Through a combination of better earnings and a weak stock price, it's now trading at a forward 12 months P/E of about 11.
Concerns about competition in Microsoft's core business are overdone. Now that it fixed the Windows Vista debacle and Windows 7 is shipping, Microsofts' Windows Division and its Business Division are firing on all cylinders. Consider this: in fiscal year 2009, which ended June 30, 2009, the Windows division made $10B in profit. It has already equalled that in only 3 quarters of business this year. That means when Microsoft announces its earnings later this month it's likely to report year-on-year profit growth of more than 20% in the Windows division.
In the meantime, the company keeps printing cash. And the stock is cheap.